15 Oct 2020
We are all facing a very challenging time. Such situations are so rare, that the last time the world faced a pandemic, was 100 years ago – The Spanish Flu. Mankind survived, and people got better and stronger, and so this time! But, until this pandemic passes, we need to find ways of how to cope with anxiety.
Firstly, remember, feeling anxious is normal – we are facing something rare. So do not beat yourself up for feeling scared and anxious. The unknown, always triggers negative feelings. It is important to acknowledge the feelings and deal with them in any way you think is best for you.
Remember: You are not alone! One positive thing that comes out of all this chaos, is that at the moment everyone is equal and in the same boat. Doesn't matter how rich and famous you might be.
Take care of yourself: You have plenty of time to take care of yourself. This is indispensable, since you might find people who will ask for your support and help. How can you help if you are not taking care of yourself first? Get lots of sleep, eat well, meditate and exercise!
Stay connected – Virtually! We are all missing our family and friends. We are grieving our 'normal'. So stay connected with your family and friends, call them as much as you can. You will enjoy it and I am sure they will too! Do not forget to share some humour.
Let go of feelings that you cannot control!
When you feel that you are worrying about something that is beyond your control, try to shift your focus on something that you can control. For example: cook a meal, call a friend or workout.
Avoid information overload: you don't need to know every detail. You can keep yourself informed without having to watch the news every day! Watch something that you love and uplifts your mood instead.
Have fun! Take the time to make things you love and enjoy, and whatever makes you laugh. Discover new talents. Now you have more free time!
Be grateful for what you have: spend some time thinking about what you are grateful for. If you can communicate it with the people you are grateful for, tell them! sharing such feelings can make us feel good and happy
Always remember, that this too shall pass!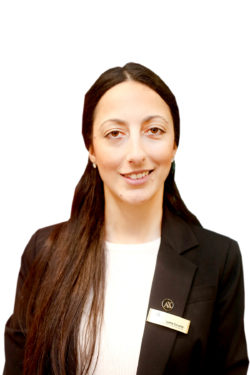 Luana Caruana
Human Resources