07 Nov 2017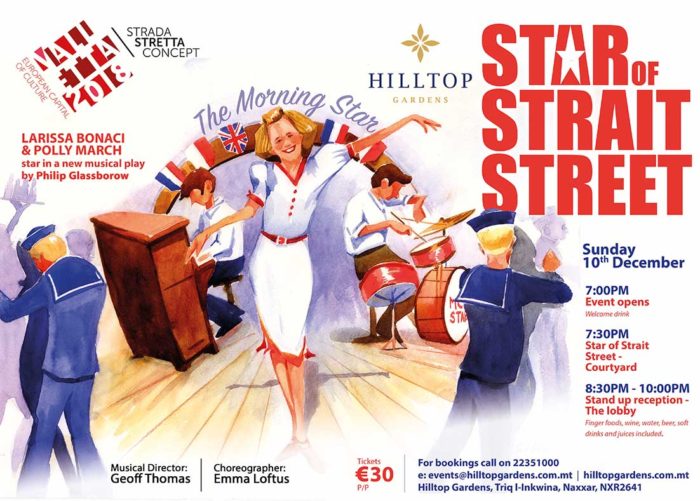 Hilltop Gardens brings you the Star of Strait Street – A love song for Malta.
The performance turns on the real-life romance between Christina Ratcliffe, a young entertainer who came in Malta in 1937, to work in The Morning Star, a cabaret just off Strait Street, and the flying ace Adrian Warburton – the most decorated pilot in the RAF. Christina also worked at Lascaris and was given the British Empire Medal for her services. Warby disappeared in a secret op and was never seen again; Christina refused to believe in his death and stayed on here in Malta, waiting for him to return to her, until her sad death in 1988.
The performance will bring original songs by Philip Glassborow as writer, alongside contemporary numbers, such as 'All Over The Place', 'All The Nice Girls Love a Sailor', 'I'll Be Seeing You' and many more. Larissa Bonaci plays the young Christina, during the 1940s,  and Polly March the older Christina, in the 1970s.
Star of Strait Street will be held on Sunday 10th December at Hilltop Gardens, Triq L-Inkwina Naxxar, NXR 2641.
A welcome drink will be served to all guests on arrival.
Finger food, wine, water beer soft drinks and juices are included and will be served at the stand up reception following the performance.
Make it a night to remember! To view the finger food menu please click here
€30 tickets out now | For bookings call on 22351000 or send an email to [email protected]
Doors open at 7:00.